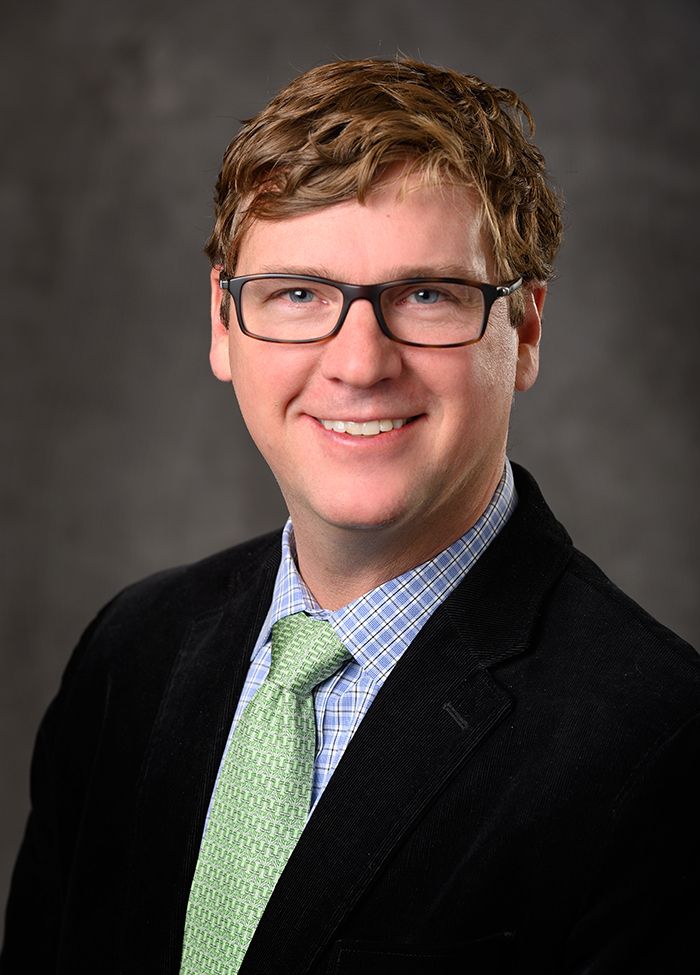 A Virtual Cup of Coffee with Jeff MacKeigan '91 
Dr. Jeff MacKeigan is a Professor and Assistant Dean for Research in the College of Human Medicine at Michigan State University. His research focuses on cancer and rare tumor syndromes with the goal of informing new treatment strategies. Dr. MacKeigan received his Ph.D. at the University of North Carolina and completed his postdoctoral fellowship training at Harvard Medical School. He and his wife, Shannon, are the proud parents of Kate '19 and Ian '24.
You can only have one: Rose's caramel corn, an ice cream cone from Jersey Junction, or a Yesterdog. Which do you choose?
Wow, that's a tough question. Nothing better than a late-night Yesterdog (or cheddar dog) with a big group of friends, although I would pick a Jersey Junction ice cream cone on a warm summer night with the line out the door.
What was your path from East Grand Rapids to where you are now in life?
Counterclockwise around the United States, like a boomerang. I was thrown out into the world and returned home 15 years later. I was born in Halifax, Canada, and with my family immigrated to EGR in 1975 at the age of three. I absolutely love everything about East, graduating in the smallest East class to graduate from the current high school, with a class size of 135 students (1991). Then thrown into the world like a boomerang. Graduated from University of Colorado Boulder (1995), lived in San Francisco working as a scientist in biotech (where I met my wife, Shannon, as a bonus), studied as a graduate student at University of North Carolina Chapel Hill. Next, to Harvard for my postdoctoral fellowship, and then back to EGR (2006) to afford our kids the same supportive, close-knit community and educational experience. Counterclockwise with the rotation and lift that only a boomerang could provide.
What specific thing did you learn in East that has enabled you to be successful?
Maintain and create close relationships with those that you respect and love. 
What were you like in school?
The 1991 yearbook says it all. The "apple polishers" mock elections winner with Katie (Pantlind) Michell. Great memories with my classmates and teammates!  
Did you have a favorite teacher or class?
Too many to name. Mr. Frazier (middle school) and Mr. Sink (high school, math), and teachers as athletic coaches (Barcheski, Zykowski, Thompson, Partin, Semeyn).
If you had to choose one moment in one location to serve as the signature moment of your East school experience, what would it be?
They make movies about this kind of stuff, but my defining moment was not on the field, ice, or court. It would be after class at office hours with Mr. Sink, where he gave me confidence and instilled in me the love of science and mathematics. A STEM experience before we even knew about STEM.
What do you know now that you wish you'd known then?
Buy stock in Google, Microsoft, Intel, and Apple. If not that, then pay much closer attention in English class, as English is essential for impacting your future through writing and critical thinking. 
Do you stay in touch with many people from East Grand Rapids?
Yes, I live here with other boomerangs and also keep in touch with other out of town classmates!
What advice do you have for young East alums who are just starting out?
Take risks, explore, and pursue your passion. You have the foundation. Aim high. Anything is possible with dedication and effort and kindness.       
Who else would you like us to have a virtual cup of coffee with?
Kate MacKeigan, Sara Dembeck, Phelps Morris, Andy Shape, Molly (Rave) Dawson, Brandy (Middleton) Todd, Mickey Mikesell, John Sebastian, David Tarantino, RJ Durell, and of course, Charles Spies. I owe you a real cup of coffee.
Bonus question: What are you glad we didn't ask you about?
What is it like to be an identical twin? Twins know no different--we only know what it's like to be a twin.